Simple safety glass is glass with an air chamber in which one or both panes are laminated so that – as well as double glazing functions – in the case of accidental breakage the glass fragments into small pieces which remain stuck to the plastic film, notably reducing the risk of cuts and personal injury.
Annealed glassEl vidrio recocido es que no ha sido templado ni termo-endurecido se conoce como vidrio recocido. El recocido es el proceso de enfriamiento controlado que evita la tensión residual en el vidrio, y es inherente al propio proceso de fabricación del vidrio flotado. El vidrio recocido se puede cortar, trabajar a máquina, taladrar, biselar y pulir. is not personal or physical safety glass, as, when it breaks by accident, it forms large, sharp fragments capable of causing deep cuts and very dangerous injuries.
There are two types of glass that considerably the risk of injury: tempered glassEl vidrio templado térmicamente es aproximadamente cuatro veces más resistente que el vidrio recocido del mismo espesor y configuración. Si se rompe, lo hace en fragmentos relativamente pequeños, que no causarían heridas graves. and laminated glassEl vidrio laminado se compone de dos o más láminas de vidrio unidas por una o varias capas o films intermedios de plástico transparente (polivinil butiral o PVB) mediante calor y presión. Si el vidrio laminado se rompe accidentalmente, los fragmentos quedan pegados al film de plástico y permanecen quietos en gran medida, lo que reduce notablemente el riesgo de lesiones y cortes.
.Tempered glass and laminated glass are considered as simple personal or physical safety glass. Laminated glass is used in PVC and aluminium carpentry enclosure systems.
Laminated glass means you can live close around glass with peace of mind and without fear of bumping into it
Applications of laminated glass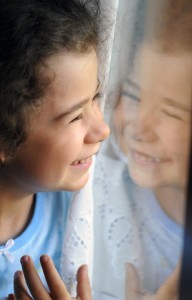 Laminated glass is used in:
● schools, sports centres, public buildings and hotels.
● homes with large windows.
● glazing roofs and skylights – protection against pieces of glass falling on people.
Simple safety glass is required in a home with a window at street level. For example: 2x3mm+12mm+4mm2 lunas de 3mm de grosor + cámara de aire de 12mm + luna de 4 mm grosor, where only the outer face is laminated glass.
In a school, legal regulations state that both the outer and the inner faces must be laminated safety glass to prevent the glass injuring a child if they accidentally bump into it. For example: 2x3mm+12mm+2x3mm2 lunas de 3mm de grosor + cámara de aire de 12mm + 2 lunas de 3 mm grosor
Double glazing simple safety glass can be combined with other functions: reinforced sound insulation; solar control; low emissivity; self-cleaning, or double security in the case of burglary or vandalism.